Outside the Office
Promotion Announcement
We are pleased to announce the promotion of Audrey S. Myer, CFP® to Financial Advisor. She has been with the firm for 10 years and will continue as Director of Financial Planning coordinating all areas of financial planning, including retirement, education, tax and divorce. She is a graduate of Messiah College. Masland & Barrick, Inc. manages over $180 million for their Central PA clients.
_______________________________________________
Great Strides Cystic Fibrosis Foundation
LACE UP. WALK. CURE CYSTIC FIBROSIS
Masland & Barrick Advisory, Inc. sponsored the Cystic Fibrosis Walk 2017 held on May 6th at Friendship Park in Mechanicsburg, PA to the "Laces4Linzy" Team. Linzy Brumbaugh, an intern for Masland & Barrick Advisory, Inc., has her own Great Stride story because she was diagnosed with CF at 3 weeks old.
Why We Stride
The Foundation's mission is to cure cystic fibrosis and raise awareness for this rare, genetic, life-shortening disease that makes it difficult to breathe. The CF Foundation is leading the way in innovative research and drug development, promoting high-quality, individualized care and helping people with CF live better todays. Nearly every CF drug was made possible by the Foundation and because of funds raised from Great Strides, people with CF are living longer, healthier lives and pursuing their dreams. But still, the lives of people with this disease are still cut far too short.
Below are pictures from the day of the walk. Linzy and the team reached their fundraising goal and raised a total of $1,882. Linzy raised $1,600 all on her own!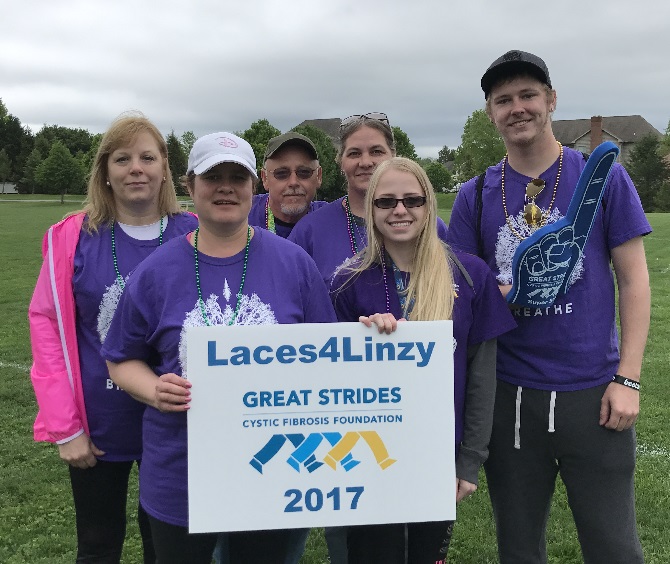 Pictured above Left to Right: Hope Mattos, Carol Smeltz, John Brumbaugh, Joanne Rupert, Linzy Brumbaugh & Rogan Barrick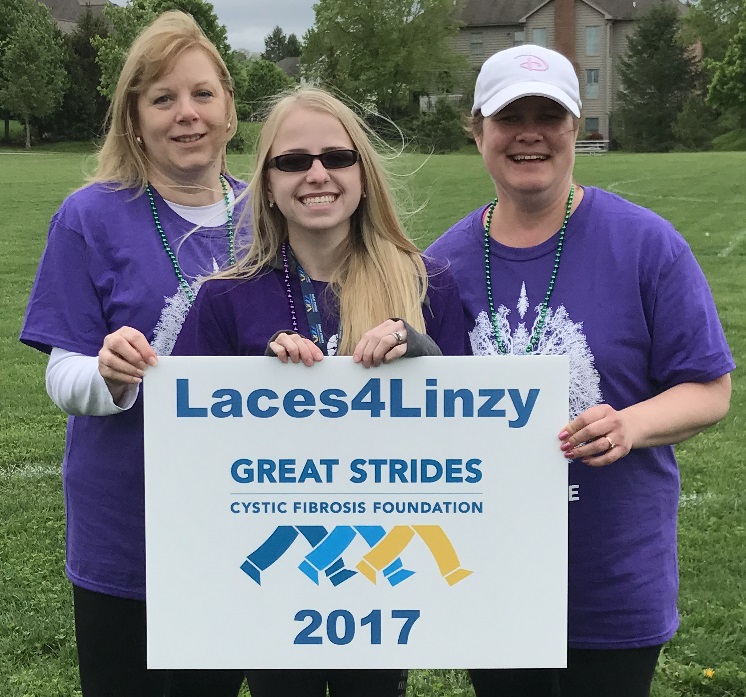 Pictured above: Hope Mattos, Linzy Brumbaugh & Carol Smeltz
_____________________________________________________________________________________
Below are just a few of the young women of the Junior Achievement (JA) of South Central PA expressing their appreciation to the Sponsors, including Masland & Barrick Advisory, Inc., that funded the 2017 Girls Symposium in the Harrisburg Area.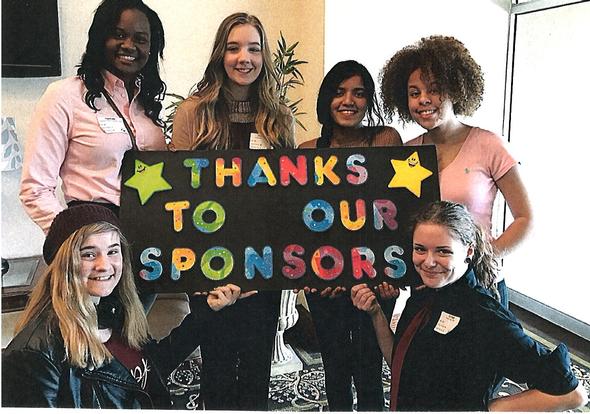 The Girls Symposium is a one-day workshop of mentoring, motivation, and opportunity for high school sophomores and juniors. Participants are students who are nominated by their schools and would not otherwise attend a workshop or leadership seminar.
---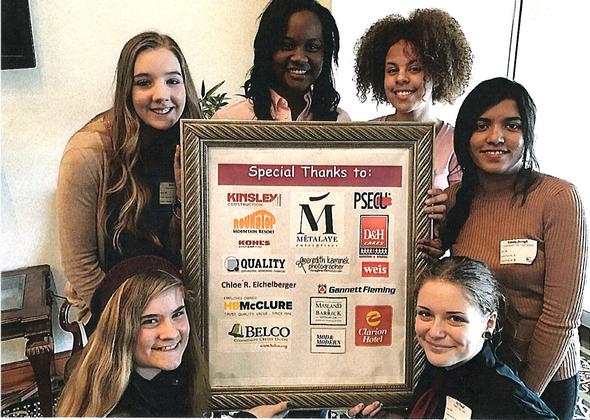 The Symposium presents career panels and motivational talks by Women Business Leaders and Professionals. The mentoring sessions and activities help students gain personal and successful career skills such as interviewing tips and techniques along with wardrobe advice. The students who participate have the opportunity to establish relationships with these women mentors for college and career advice.
Stacey Barrick has been one of the Women Business mentors for many years and loves getting to know the young ladies assigned to her table for the day. She leaves the symposium exhilerated and exhausted!
Throughout the year, seven Symposiums are held to benefit over 900 students in South Central Pennsylvania. This program is offered at no cost to the attending schools. Therefore, volunteers and financial supporters from the local community are vital.
_____________________________________________________________________________________
In honor of our 25th Anniversary, Masland & Barrick Advisory, Inc. donated to the following charities:
Humane Society of Harrisburg Area - $500
Central Pennsylvania Food Bank - $300
Domestic Violence Services of Cumberland & Perry Counties - $200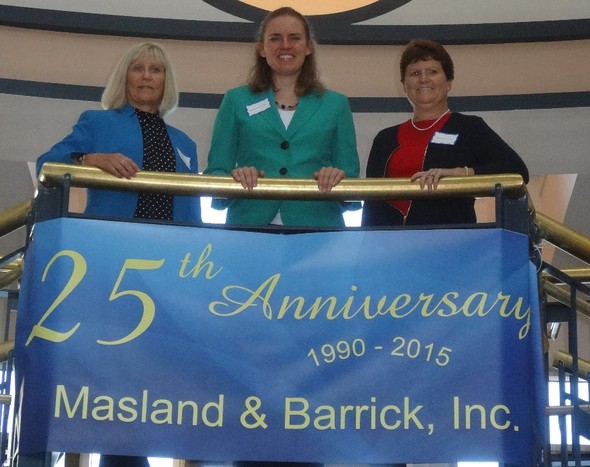 _____________________________________________________________________________________
The staff of Masland & Barrick Advisory, Inc. participated in the Junior Achievement of South Central PA bowling fundraiser in November 2015. The theme for the fundraiser was Star Wars. Below is a picture of the bowling team along with some stand-up Star Wars characters. Pictured left to right is C-3PO, Audrey, Stacey, Hope, Chewbacca, Deb, Carol & Darth Vader
_____________________________________________________________________________________
Isabel Masland (pictured below) has certainly been enjoying her retirement and she prides herself on helping other retirees find humor in their golden years too. Isabel is the founder of The Bad-Ass Grandmother (BAG) project. Don't let the name shock you. The project name was inspired by Isabel's grandchildren.
The Bad-Ass Grandmother (BAG) project is designed to bring fun and laughter to older adults in senior centers, nursing homes, Adult day care centers and any other facility where the program may be requested.
The debut of this program was held Thursday, October 1, 2015, at the Schaner Senior Center in Enola, PA. The Bad-ass Grandmothers performance was superb! Isabel and her friend, Ida May Heidecker, told their jokes to about 25 seniors who, when told they were their "ginny pigs", said they enjoyed the jokes and look forward to a return visit. Below is a picture of Isabel at her first stand-up comedian act.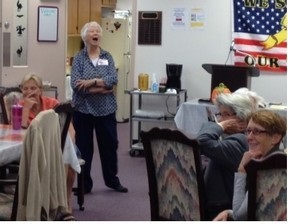 _____________________________________________________________________________________
Brenda Gabel (pictured below), a valuable long-time retired employee of Masland & Barrick Advisory, Inc., was featured as Volunteer of the Month in Harrisburg Magazine's Fall 2015 Issue. Brenda is a volunteer for the Whitaker Center for Science and the Arts.
Brenda usually volunteers at the Information Desk at the Whitaker Center and usher for the Whitaker Center and Theatre Harrisburg. She loves watching families and school groups laughing and learning together. Brenda has always believed it is important for us to give back to our communities when and where we can. At the Whitaker Center you can move around to different areas, interact with the clients, and have fun doing it. Through my volunteer work I have met some very interesting people and made some good friends.